Sooji halwa recipe with step by step photos
.
Sooji halwa
is one of the most easiest desserts which can be prepared in no time and makes an excellent dessert or a simple sweet or prashad.South Indians make
Rava Kesari
which is similar to
sooji halwa
with added kesar color where as
sooji halwa
is commonly prepared in the other parts of the country.
Sooji halwa
is usually prepared along with puri and dry black chickpeas on the eighth day(Ashtami) during Navaratri in north India and is prepared for any festivals like Ganesh chaturthi,Navaratri etc.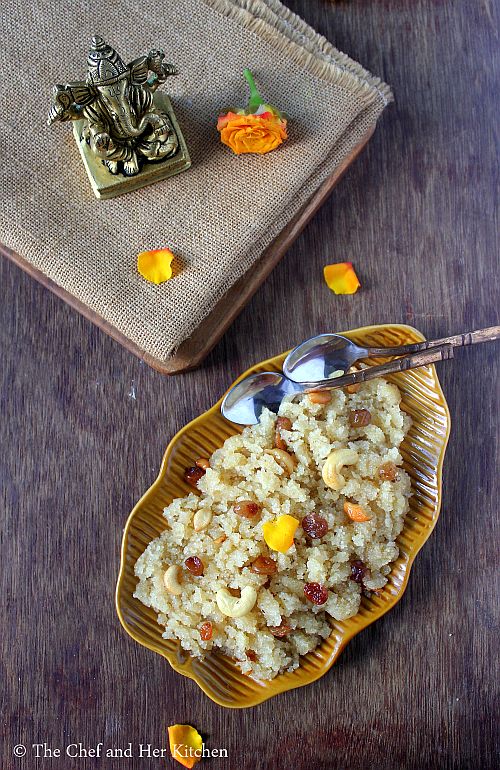 I am posting a basic version of Sooji halwa, there are no hard and fast rules for preparing this halwa, the recipe I am posting has just right sweetness the way my family prefers but you can increase the sugar and ghee quantities according to your requirements.Sometimes I add fresh fruits like apple,banana,mango,pineapple to the
sooji halwa
to make it in different flavors.
If you want to make the
sooji halwa
rich add milk or a mix of milk and water in the ratio as mentioned and proceed with the same recipe.The addition of nuts again is individual choice,I even add roasted almonds along with cashewnuts and raisins which adds a nice bite to the halwa.I sometimes add saffron to the halwa instead of cardamom powder.If you are preparing the halwa for prashad you can add a pinch of edible camphor which gives a divine taste to the halwa.I prefer to make
sooji halwa
rather than Rava kesari as I am against the usage of synthetic colors in our regular food.
Check out other halwa recipes in my blog:
Here is how to make sooji halwa recipe with step by step photos.
Sooji Halwa | Rava Sheera Recipe:
Serves 2-3
Prep time: NIL | Cooking time: 20 mins | Total time: 20 mins
Cuisine: Indian | Category: Dessert
Ingredients:
1/2 cup Sooji/Rava
1/3 cup Sugar
3-4 tbsp Ghee+ 1 tbsp Ghee
1 1/4 cups Water
1/2 tsp Cardamom powder
7-8 Cashew nuts,chopped
2 tbsp Raisins
Method:
Heat ghee in a thick bottomed kadai and add cashewnuts and fry them until they turn light brown in color and remove them and then add raisins and fry them until they swell up and remove them and keep aside.
In the remaining ghee add rava and roast it on low flame until you get nice aroma from it.
Meanwhile boil water in another container and pour this water in the roasted sooji and keep stirring it continuously and let it cook until done.You can even boil the sugar in the water and add it to the roasted sooji and mix.
Add sugar to it and cook further,initially the mixture will become watery.Let it cook further until it is done.
Add cardamom powder, fried cashew nuts,raisins and 1 tbsp ghee and mix it nicely.
Cover it and leave it for a while.
Serve it hot/warm or at room temperature.
Notes:
This is mildly sweet,if you want it more sweeter add 1-2 tbsp of sugar to it.
The addition of ghee at the end will keep the halwa soft and does not harden after it sits for a while too.
You can prepare it in complete milk or mix of milk and water using the same ratio as mentioned.
You can increase the water to 11/2 cups for a soft halwa.
You can even add roasted almonds,chopped figs in the halwa for a richer taste.Instead of cardamom powder you can add saffron soaked in hot milk which gives a nice flavor and color to the halwa.
You can prepare various fruit based halwas like banana halwa by addding chopped banana at the end and cook for a minute or by adding chopped mangoes to make mango halwa.You can add finely chopped apple pieces,pineapple pieces while boiling the water and proceed with the same recipe for apple halwa and pineapple halwa.